This is my review of the book The Birth Partner: A Complete Guide to Childbirth for Dads, Doulas, and Other Labor Companions by Penny Simkin. This book was a part of the required reading list for my Madriella birth doula certification.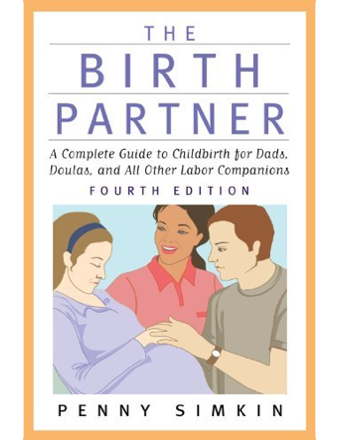 Penny Simkin's The Birth Partner is a necessary "baby book" for people who think it's not important to read baby books. It is packed full of essential information about childbirth in an easy-to-follow format. Even if your partner doesn't want to read the whole book, there are checklists, charts, position photos, and tons of other helpful resources within these pages that make tracking, following, and participating in labor so much easier. In pregnancy and childbirth, you are empowered by information. During labor, the mother is focused on having the baby; it is the birth partner's responsibility to focus on all the other details. By reading The Birth Partner during pregnancy, the partner will be better equipped to help the mother create a birth plan, and will be more prepared and flexible when things don't go according to said birth plan. Many women expect their birth partner to be their "rock" during a challenging labor, and it is much easier for the partner to provide support for the laboring mother when they understand the process of birth.
The book is divided into four parts: Part 1 Before the Birth, Part 2 Labor and Birth, Part 3 The Medical Side of Childbirth, and Part 4 After the Birth. In Part 1, Simkin states that the birth partner's role is defined before labor actually begins. There is much to be done in preparation for birth, and the birth partner can help the mother in many ways. The birth partner may attend childbirth classes and prenatal appointments, encourage healthy habits, and help plan for the upcoming birth. The partner can help the mother create a birth plan, with backup options in case things don't go as smoothly as anticipated. This is a good time to decide whether a birth doula would be a good addition to your birth team. (On a personal note, I already know that I will need a doula whenever I have a baby. My fiancé is extremely uncomfortable with all things medical-related, so I will definitely need an extra rock on my birth team.)
Some partners can't stand the idea of their wife or girlfriend being in pain, and the usual noises and intense energy of labor might scare them into thinking the mother needs an intervention they don't want or need.
A doula does not replace the partner, but rather works with the partner to provide the best multi-faceted support possible for the mother in labor. Toward the end of pregnancy, the birth partner should help the mother stay hydrated, assist with strengthening exercises, practice labor positions and comfort techniques, talk and sing to the baby, and make preparations for when the baby comes home. In the last few weeks before birth, the birth partner should make themselves readily available to the mother as much as possible, ready to head to the hospital, birth center, or home for a home birth when the mother goes into labor. Part 2 dives into what mothers can expect of a "typical" labor and birth, which is typically not typical at all. Simply put, "The most predictable thing about childbirth is total unpredictability" and "the key is to accept the unpredictability and pace yourselves while the labor process unfolds" (p 59-60). Simkin explains the differences between prelabor ("false labor"), first stage (dilation), second stage (birthing of the baby), and third stage (placenta or afterbirth is delivered), and everything in between. These descriptions can help a birth partner distinguish between when things are progressing normally versus when something isn't right. Simkin also discusses comfort measures, labor positions, and the Three R's: Relaxation, Rhythm, and Ritual. All of these things are often rehearsed during pregnancy for use during labor to help the mother cope with labor progression. While the mother and baby's well-being are the focal point of labor, it is also important for the birth partner to take care of themselves by resting, eating and drinking, wearing comfortable clothing, and asking for help when needed. There is also a chapter on labor complications and how to address them. The information in this chapter can aid in a successful transition from Plan A to Plan B, C, D, etc. In the event of labor complications, the mother will likely be shocked, afraid, unconfident, possibly annoyed, but mostly dependent on her birth partner for reassurance and help coping. Various medical interventions and procedures are discussed in Part 3. It is important to be informed about common medical interventions before the birth because "most interventions carry some risks or disadvantages along with benefits… Except in emergency circumstances, there is usually more than one way to accomplish the intended purpose of any proposed intervention" (p 235). Different medical procedures are described, such as induced or augmented labor, episiotomy, forceps delivery, vacuum extraction, and cesarean delivery. Pain medications and anesthesia options are also reviewed. Common complications like premature labor, high blood pressure, gestational diabetes, arrest of labor, breech positioning, and postpartum hemorrhaging are also explained in detail.
A complicated labor is a scenario you hope you never run into. However, if you do have to face something so difficult, it is better to be prepared ahead of time so you can make informed decisions on the fly when time is sensitive.
Finally, Part 4 is about adjusting to life after the baby is born. The birth is officially over and the birth partner has a whole new set of responsibilities now. This section covers everything from the first hours after birth to the first few days, including newborn assessments, healing pains, bathing, circumcision, pooping (mother and baby), sleep deprivation, breastfeeding, and baby blues/postpartum depression. Mother-baby bonding is particularly important during this time, especially if they are breastfeeding. The partner should do everything in their power to promote that bond, like helping around the house, scheduling appropriate visiting hours, preparing meals (or arranging a meal train with family and friends), hiring help if needed, and making sure the mother's needs are met.
Penny Simkin's The Birth Partner was the first birth book I read when I decided I wanted to become a doula. When I finished it, I knew that I had built a solid foundation of knowledge about labor and childbirth, and I was so excited to learn more. I made sticky note flags on almost every page because so much of it felt critical to my learning. The way the book is broken down, it can be used as a full preparation guide for labor and birth or a quick reference during labor. The most important sections even have darkened pages for easy access. Simkin's knowledge of childbirth is highly respected; she just celebrated her 50th year of teaching childbirth education! Childbirth education classes are a great idea for new parents, but if you can't fit classes into your schedule, books on birth are extremely valuable. I would highly recommend The Birth Partner to new parents for a comprehensive overview of what to expect during labor and childbirth.